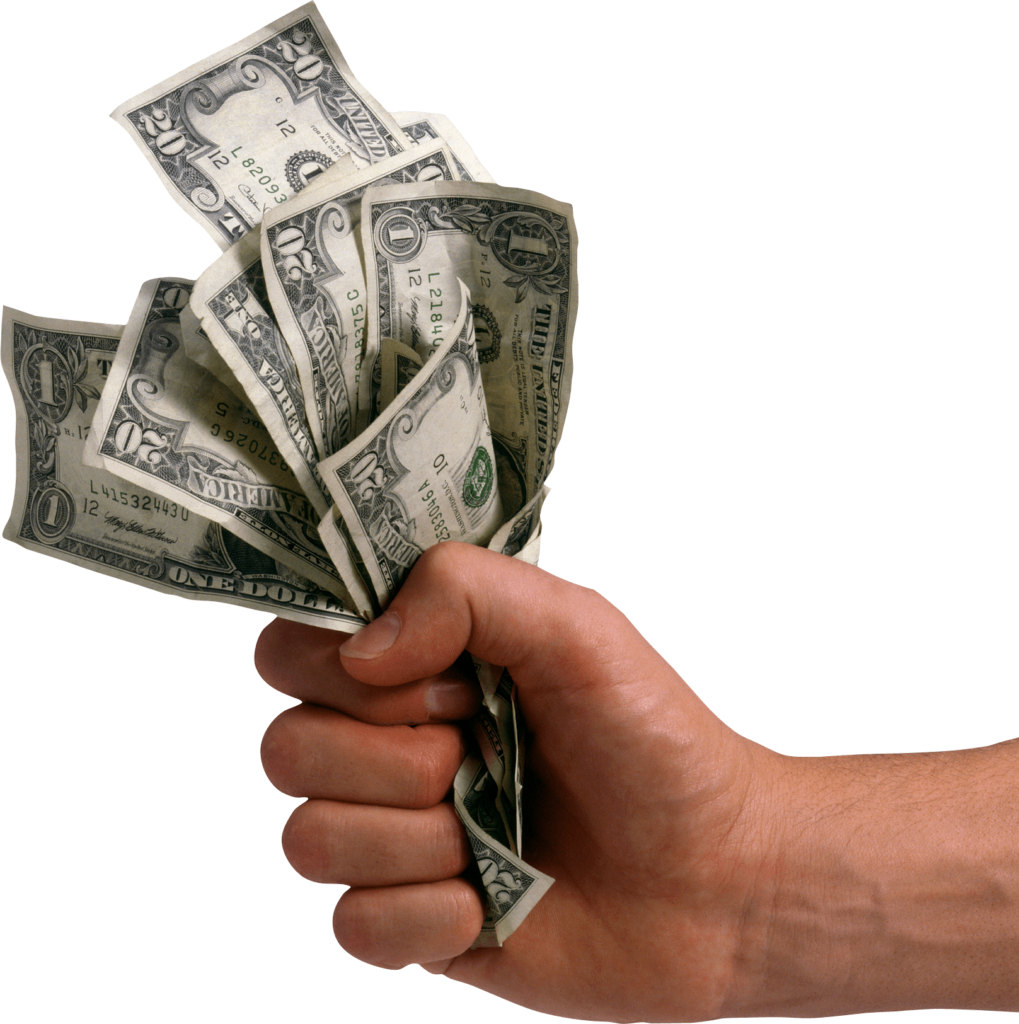 If your anything like everyone else, Bed bugs are always unwelcome in your home,
but eradicating them isn't as simple as just spraying a pesticide or setting a trap.
By doing your research about which treatments are available and retaining estimates from multiple sources,
you can become an informed consumer with all the
facts. Bed bug treatments for the most part are not always cheap,
but it's money well spent for well-rested nights and skin without all the telltale bites.
Extermination Costs For Bed Bug
Homeowners spend an average of $1,000 to $2,500 to exterminate bed bugs.
    The level of infestation, the size of the space,
and the type of treatment will affect your price.
You could pay as little as $300 for a small problem
and as much as $5,000 to clear a large house.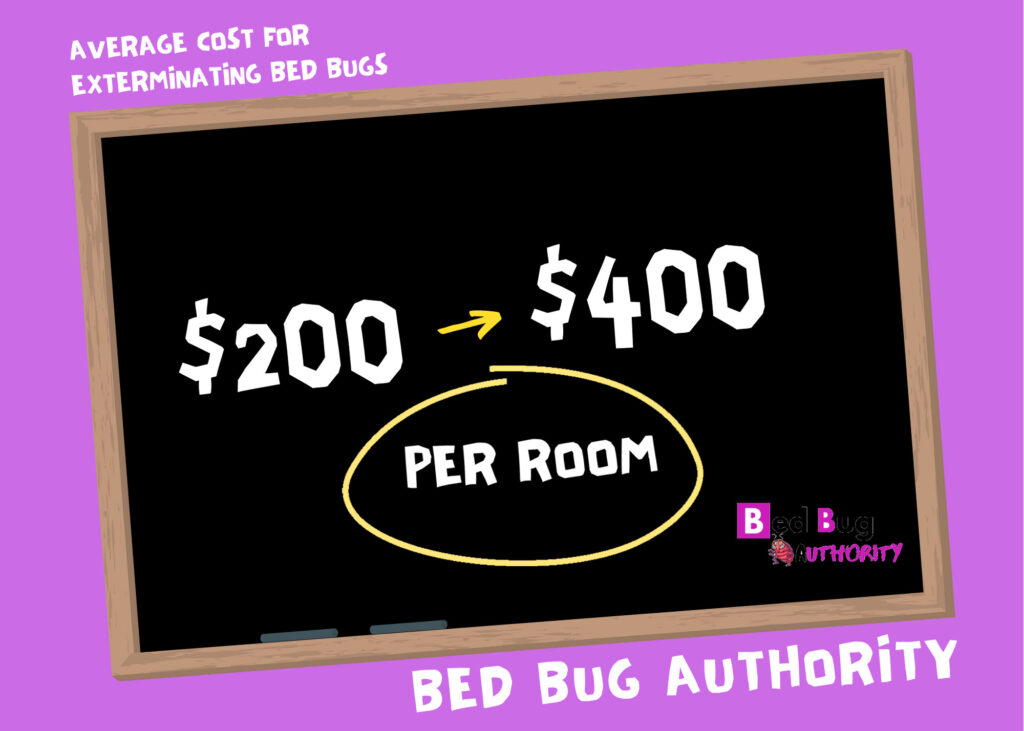 These are some of the most difficult pests to get rid of. They can survive for long periods of time without food – which, for them, is blood.
They can also hide in small cracks and crevices to dodge chemicals and sprays.
To truly get rid of them, the best route is to hire a professional exterminator.
When you hire a trained pro, they will handle the service appropriately and effectively.
Plus, you won't risk harm to yourself or your property.
Average Bed Bug Extermination Costs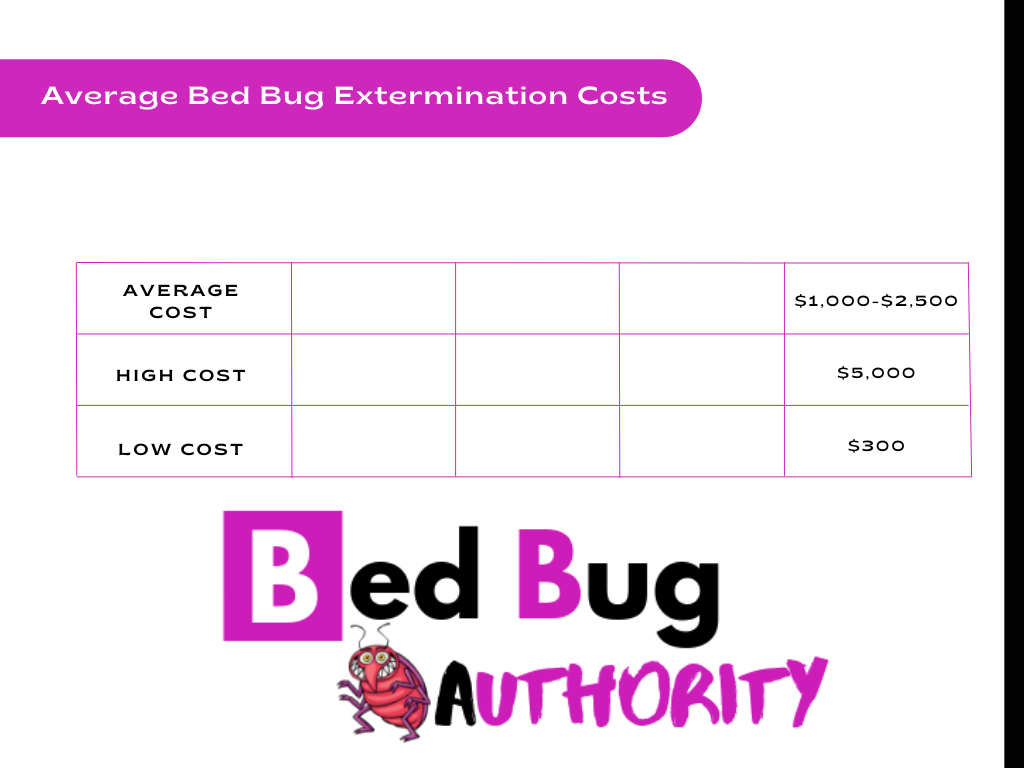 While most individuals pay $1,000 to $2,500 for these services, your price will reflect your situation.
The size of the infested area, the severity of the problem, and even your location can impact your price.
Exterminators can charge several ways: by room, square footage, or a flat fee. They can bill by individual visit or as a package.
If the problem is isolated to one room, you will pay a lot less than if it has spread to multiple areas.
The whole house cost will be the most expensive, but it could be the most effective choice for you.
Remember that you may need multiple visits. Each company has its own way of billing.
Some will give you an up-front price that includes multiple visits over time, while others will charge per visit.
For larger homes with severe problems, whole house heat services could come to $4,000 and more.
Extent of Infestation
A moderate infestation will be $200 to $300 per room. A heavy one will be $300 to $400 or more.
The denser your infestation, the more labor, and the product you will pay for. To thoroughly eradicate these pests, you may need two to three visits.
You may also need a combination of methods and preventative procedures, a technique known as integrated pest management.
Costs by Location
Each year, there are a few popular exterminator companies that release
lists of the top cities for bed bugs
according to their service requests.
If your city lands on either of these lists,
you can expect to pay more than someone
in a less-prone city.
In fact, homeowners in cities that have more rampant infestations
could pay three times more than others.
This is because, with higher demand, local companies charge more.
The cost of living can also have a significant impact
on what companies in your area charge.
Some of the cities with high rates of these insects include:
New York, New York
Baltimore, Maryland
Washington, DC
Chicago, Illinois
San Francisco, San Diego, and Los Angeles, California
Cleveland, Columbus, and Cincinnati, Ohio
Detroit, Michigan
Dallas, Texas
Phoenix and Tucson, Arizona
Philadelphia, Pennsylvania
Denver, Colorado
Atlanta, Georgia
Tampa, Florida
Las Vegas, Nevada
A significant portion of the Northeastern United States is heavily affected.
Even warmer, tropical climates like that of Hawaii are proving susceptible to infestations.
Because travel has become more accessible, and because most of our buildings are climate controlled,
the opportunities for these pests to spread and survive are greater.
They are showing up in apartments, hotels, office buildings, movie theaters, and even hospitals across the nation.
Bed Bug Extermination Prices by Treatment Type

Heat Treatment or Thermal
The charge for these methods tends to run between $1 and $3 per square foot, with the average homeowner paying $2,000 to $4,000 total.
For this method, your exterminator will drive hot air into the space to get the temperature over 120 degrees.
These insects have a low tolerance for elevated temperatures and this technique should eliminate them.
You just must keep an eye out, because this style doesn't involve a preventative residual.
Residuals are chemicals or treatments that are either sprayed or remain as residue after service to block returning pests.
The heat method alone does not use or leave such chemicals.
Freeze Treatment
To get rid of bed bugs, homeowners often spend $500 per room for freeze treatment.
The bed bug-killing freeze treatment turns liquid carbon dioxide into dry-ice "snow," which is then pushed into the afflicted region.
Bed Bug Fumigation Costs
At a $4 to $7.50 rate per square foot, people spend $5,000 to $50,000 to fumigate their homes.
For this method, the technicians will close off your home with tarpaulin and fill it with a gas that will kill these insects,
as well as many other critters in the structure.
This is one of the most successful ways to get rid of them, but you will have to be out of the house for several days during the fumigation.
It is necessary for heavy infestations, where the entire structure and foundation need to be treated.
Chemicals & Pesticides
With this technique, the professional apply toxic chemicals in liquid and powder form for a cost between $100 and $500 per room.
This style is often used in a combination of methods and isn't considered reliable on its own.
Bed Bug Removal Using Steam
Steam is extremely useful and effective and doesn't involve chemicals.
Pest removal using steam averages $250 to $1,000 per room.
The temperature of the steam gets to both the eggs and the adults, wiping them out completely.
Your technician can use steam to penetrate furniture and mattresses, ensuring success.
Where a typical inspection is $50 to $200, many pest control companies offer inspections by trained dogs or canine inspections.
The charge for this ranges from $300 to $600 for the average-sized home.
Hotels and other large buildings will run closer to $900 to $1,200.
These dogs are experts at detecting infestations and are supposed to have a higher accuracy level than humans.
Professional Exterminator Company Cost Estimates
Orkin
Orkin service for an average-sized home typically averages $1,300 to $1,600,
though a studio could be as little as $400 and a severe problem in an average-sized house could end up being $3,000.
They are a well-established, nationwide company that has been in the industry for over a century.
They use the "AIM" system – Assess, Implement, and Monitor.
The program boasts a thorough inspection that factors in climate, geography, and the source of an infestation and careful monitoring after the visit.
They use non-chemical products whenever the situation allows and offer a 30-day guarantee.
Their services tend to come at a higher rate than other companies.
Terminix
Terminix can take care of a minor problem for as little as $500 and a heavy problem at $2,000, but their average whole home cost is around $1,400.
They are the biggest pest control company in the world, with locations all over the globe.
They perform free, thorough inspections and offer a freezing option, which is a non-chemical dry ice method.
Within 30 days, if you see a bed bug, they will treat it again without an added charge via their 30-day guarantee.
If you purchase and install their mattress and box spring covers during your initial visit, you will have an extended 90-day guarantee.
Ehrlich
Ehrlich's services can be around $650 for an average-sized house, which includes three visits.
To do the whole home, however, expect to pay closer to $3,000.
The company has been around since 1928 and has over 100 locations in the eastern US.
They are a unified, non-franchised business, and they offer both a free inspection and a 30-day guarantee.
They are particularly proud of their trained dogs, which they use for K-9 detection.
They use an Integrated Pest Management system, with a strong focus on prevention.
They also strive to be as environmentally friendly as possible.
Their prices are often considered reasonable since the free inspection allows for a more precise quote. 
They can eradicate small, minor cases for $500 or they can treat more severe cases at around $2,800.
Arrow is a family-owned company that has been in business for more than 50 years.
They have over 100 locations in the southern United States, but they are still a unified company, so you can expect standardized service across the locations.
They use their own environmentally mindful method, known as STEPS (Sustainability Through Environmental Practices and Solutions),
which ensures the use of the eco-friendliest products possible for each situation. They also have a 30-day guarantee.
ThermaPure created a patented thermal process, known as ThermaPure Heat.
Thermal processes are usually more expensive than other methods, but they are eco-friendly and are supposed to be 100% effective.
The process could cause damage to your belongings, however, and you must be sure to discuss preparation with your professional.
They also use their technique to get rid of mold and dry out moisture-damaged structures.
Hiring an Exterminator
An exterminator can perform a thorough inspection, find the best solution, and administer that solution in the most efficient way.
These professionals are trained to eradicate these stubborn pests and to find them in difficult-to-reach spots.
Licenses
If you are getting chemical or heat treatments, make sure to use a company with a licensed Pest Management Professional (PMP).
While each state goes about the licensing process differently, it is illegal for an unlicensed technician to use pesticides.
And only a qualified, licensed individual should use the heat technique because it demands specialized knowledge and skill.
On the other hand, if you are getting non-chemical treatments, research your individual state regulations for licensing requirements.
Some states do not require licenses for companies that use non-chemical techniques, such as steam or freeze methods.
Preparation
There are different ways to prepare for various techniques, like fumigation and heat.
Your service technician will have a list of preparatory actions for you to take that are particular to your chosen method.
Expect to see the following on most of those lists:
Wash your clothing and linens in very hot water

. Immediately store them in clean, re-sealable bags or containers. Do not put them back out until 3-4 hours after service (this time frame may vary, depending on the method used).
Push furniture out from walls. It's important that your technician treats the baseboards.
Vacuum and clean right before the visit. This will clear away dead bugs and expose live ones. Promptly and properly dispose of the vacuumed debris.
Steam clean furniture. If you have old, infested furniture that isn't worth keeping, get rid of it. For thermal treatment, you will need to bag and remove furniture that can't withstand high temperatures. Melted glue, for example, can ruin a vintage chair.
Declutter. Box up all loose items and store them on countertops. If a room has an excess of items in it, you may want to declutter it for easier access. Always properly store the items and do not carry them outside the home where they might infect another property. Consult with your technician if you're not sure about your clutter. They may advise you to store them in containers or re-sealable bags.
Empty closets and drawers. Talk to your technician to see if this is necessary, and to what extent.
Remove anything living. This includes small animals and plants. You may need to temporarily relocate fish, depending on the situation. For fumigation, you will need to remove food and medications.
How much does it cost to exterminate a 1-bedroom apartment?
Apartments tend to be smaller than houses, so it stands to reason that they'd be cheaper to treat for bed bugs, right?
Well, depending on the severity of your infestation, it could come between $300 and $900 to exterminate a 1-bedroom apartment.
However, this will fluctuate with your location, the method, and whether or not you need second and third sessions.
The best way to get an estimate is to get a professional inspection.
How to kill bed bugs in leather, cotton, or foam furniture?
Vacuuming and steaming are two of your best weapons.
If you want to go the chemical route to block a second infestation, you can spray a residual on the furniture afterward.
It is best to seek professional help to ensure safety and success with extermination.
An infected piece of furniture is not a hopeless piece of furniture.
You can eradicate this problem with the right treatment, precautions, and a little patience.
Are there safe, non-chemical ways to get rid of bed bugs?
Yes. The steam method and the heat method are both non-chemical,
though you should use a professional for these techniques to prevent damage to your property.
Some companies will offer Diatomaceous earth as an alternative to chemicals and residuals.
This dust-type product is non-toxic and will dehydrate these insects.
It is safe for use around pets and children. There is also a dry ice method, which kills them by freezing them.
How can I prevent a home infestation?
There are many precautions you can take to keep these bloodsuckers out.
Wash your clothes in hot water after travel.
Keep your luggage up and away from hotel mattresses and floors.
Inspect and disinfect used items before you bring them inside, especially furniture.
Seal up any possible through-ways, such as cracks in the walls and gaps under doors.
Vacuum often.
Protect your mattress with a special mattress cover.
Keep an eye out for rust-colored spots and, if you do find them, seek professional help immediately.
Reduce clutter.
Keep an eye on pets and pet accessories.
How much does a bed bug mattress cover cost?
These special mattress covers are $20 to $60, with an average price of about $25.
Covers for box springs are $20 to $30 and those for pillows are $10 to $20. A full set would come out to $60 to $100.
Can bed bug professionals get rid of other pests?
It is likely that there are other pests your pro is qualified and licensed to exterminate,
and there are large companies that can handle anything from ants to birds.
However, many companies choose to specialize in particular pests and not others.
If you have other problem insects or a rodent issue, talk to your provider about their qualifications.
Note: Fumigation can kill many other kinds of pests. If you have other problems, talk to your technician about targeting those as well.
Different insects call for different doses of the fumigant.
What's the estimated cost of DIY extermination?
There are several routes you could take with DIY extermination.
There are DIY kits available between $50 and $200 that have everything you need, including instructions, to attempt extermination yourself.
You could also buy a steamer to steam-treat at $30 to $400.
The $30 unit would be handheld and would take more time than a heavy-duty steamer at $150 to $400.
Diatomaceous earth is a non-toxic dust that you can use, as well, at $10 for 2 pounds and $20 for 10 pounds.
Because of their tenacity and intellect, bed bug populations can often survive one chemical treatment.
Many companies will need to treat an area a second time or will combine two methods to increase efficacy.
It's not uncommon for pesticides or fumigation to be completed twice before a population is truly eliminated.
In these cases, many professional pest controllers will provide discounts.
Heat treatment is almost always effective the first time, making it one of the best choices for you!
Hope this was helpful for anybody that was wondering what the cost difference is between hiring a professional and doing the work yourself.
Eradicating bed bugs is not an easy task to do yourself but, it is an option if it's not in your budget to hire a pest control company.
Weigh your options before deciding. 
Here on this site, we have some very good options for you to use  (Click Here) if you feel up to the challenge of tackling this project yourself.
It will take some work but it can be done.