Bed Bug Infestation Claim
An Illinois woman in town for a wedding files a complaint against a Smyrna hotel, claiming her room had bed bugs. The woman said she was bitten several times, and her left hand was so swollen she was rushed to the emergency room to have her wedding rings cut off. The hotel is disputing her story, claiming no bed bugs were found.
Joe and Amanda Lillig didn't get to the Comfort Suites Hotel in Smyrna until late on April 7. They were so tired they went straight to bed. The couple was only able to get about two hours of sleep when she was suddenly awakened.
"I woke up about 2:30 and I had bed bug bites on my ring finger, middle finger, three or four bites on my left arm and my left shoulder," said Amanda Lillig.
She woke up her husband and told him they had a problem.
"He called downstairs to the front desk," she said.  "He told them they had a bed bug problem that we needed a new room."
The front desk clerk told them the hotel was full, and no other rooms were available. The couple said the room was dirty, had missing outlet covers, a stained mattress and plenty of bed bugs.
"We had found more, the more we looked," the wife said.  "They were various sizes, so this was an on-going problem it seemed."
So, they called the front desk again, asking to be compensated for the room. The Lilligs said they asked the hotel attendant to come to the room to see for herself.
"My husband showed them to her and she was grossed out herself," Amanda Lillig said. "She made a face that she was dissatisfied with how things were."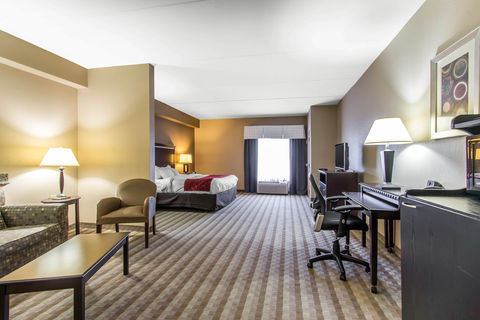 The couple said the hotel attendant told them repeatedly they would be compensated for the room, but she wasn't authorized to do it herself. She called Choice Hotels and was told it's a local issue. They were offered 1,200 Choice Hotel points.
"I don't care about your Choice hotel points, your customer service is such that I don't feel like it's safe to stay at any of your hotels the way I've been treated," she said.
When the couple made it back to Illinois, Lillig said her hand was so swollen she had no choice but to have her priceless wedding rings cut off, in the very ER where she works.
"So, like, watching them cut them off was really hard," she said.  "I think my husband took it better than I did; I didn't take it very well." Lillig has reached out to anyone who would listen.
"So, I started calling the local Chamber of Commerce," the wife said.  "I called the Better Business Bureau, I called the Health Department."
So, she took her gripe to Trip Advisor, posting a negative review and photos of the bugs and encouraging folks to 'stay away' from the hotel. She got an online response from Comfort Suites apologizing.
The Tennessee Department Health has released the most recent Inspection report for the Comfort Inn Suites Smyrna. The inspection took place in February and lists a score of 100. Click here to view the inspection report.  
The Health Department normally inspects hotels twice a year. The hotel's owner, Sam Hari, mentioned, one of the photos listed on the Trip Advisor website is an old photo of a room. The photo somehow were included in a group photos taken by the disgruntled customer Amanda Lillig, who claimed she and her husband found bed bugs in the room.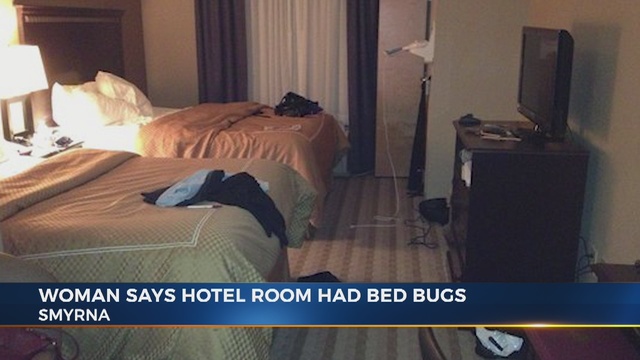 "That customer rented a single king room," Hari said.
Hari said no bed bugs were found in the room and several customers have stayed in the same room since Lillig's claims.
Comfort Suites S, Guest Relations Manager at Comfort Suites Smyrna, responded to the review:
I really appreciate your taking the time to share your recent experience. I want to personally apologize for your disappointment with the front desk and the room. 
 
We want our guest to have the best stay possible where everything is 
Perfect. I am sorry if that was not the case during your stay. You can be 
Confident that we will follow-up on our behalf, so that others are not disappointed as you were. 
Upon checking the condition of the room with the exterminating company, there was no issue with pesticide and we forwarded all the reports to local agencies. 
Again, thank you for making the effort to share your thoughts with us. We value you as a guest, and I do want you to know that your concerns are our concerns! 
Comfort Suites owner/manager Sam Hari has said, he had an exterminator come out and no bed bugs were found. He turned over the exterminator report to the Town of Smyrna Codes Department.
"At first I was disgusted that there were bed bugs, but now I'm just disheartened that people don't care," Amanda Lillig said.
The couple said all they want is to be compensated for the room and the cost of repairing the wedding ring.
Thanks For Reading,
BedBugKillerAuthority